A major differentiator of AHP is our commitment to utilizing the industry's best in diagnostic equipment and practices for our patients involved in Personal Injury or Worker's Compensation Injuries. We are pleased to include JTech's Tracker Freedom Wireless Dual Inclinometer as one of those diagnostic tools. The Tracker Inclinometer is a faster, easier, smarter way to measure spine and extremity ranges of motion [ROM] and digital muscle testing. Tracker Freedom Wireless Dual Inclinometry is a breakthrough for fast, reliable Range of Motion [ROM] testing. JTech's completely wireless radio frequency inclinometers make instrument placement easier and testing more efficient.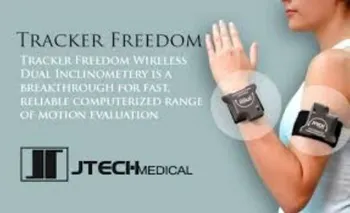 With spine and extremity testing protocols outlined in the American Medical Association's (AMA) Guides and The Practical Guide to Range of Motion Assessment, Tracker Freedom Inclinometry systems provide the objective range of motion data we need at AHP for treatment planning, progress tracking, patient education, and impairment rating.
The Tracker Freedom allows our treatment staff to accurately measure deficits to provide valid data-reporting [sample below] relating to patient injury, its impact on their activities of daily living [ADLs] as well as any necessary limitations on the patient's work requirements.
Why did AHP choose wireless inclinometry? It allows us to...
Documenting Spine Range of Motion
According to the AMA, dual inclinometry is the preferred method for quantifying the compound motions of the spine. Using dual inclinometry protocols from the AMA, Tracker Freedom Inclinometry systems automatically subtract extraneous spine motion to simplify documentation and provide true ROM readings. The systems come with built-in protocols for cervical, thoracic and lumbar motions, including antalgic/ankylosed positions.
Expanded Testing Capabilities
In addition to spine motion, Tracker Freedom Inclinometry systems perform double duty as a fast, convenient tool for documenting extremity motion. The systems come complete with testing protocols published by the AMA for all large extremity joints, including lagged and ankylosed motions.
We chose JTech's Inclinometer for these benefits...
Completely computerized range of motion equipment with digital inclinometers and documentation and reporting software.
24 built-in standard test protocols for spine and extremity evaluation
Video help demonstrating all standard tests
Antalgic or ankylosed spine motions protocols
Immobile and lagged extremity joint motion protocols
Active and passive extremity ROM protocols
Option to use AMA validity criteria, required for impairment rating, or coefficient of variation (CV) for spine motion evaluation
Automatic comparison of results to AMA norms
Test-to-test progress comparison graphs in testing screen
Report generator for effective data, narrative and superior reporting
Voice prompts that walk through tests