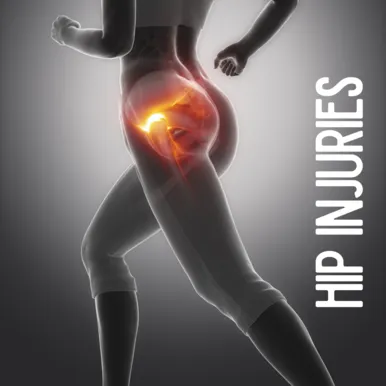 Hip Pain & Injuries
Did you know the hip is the largest joint in the body? There's also a cartilage "cushion" called the "labrum" in the joint to allow for fluid movement and to reduce friction as the hip bone moves in the socket. That is how a healthy hip joint works. But despite being such a large joint, the hip is an area of injury and wear-and-tear for millions of people
Wear-and-tear hip issues are a simple part of use and aging. The cartilage wears down or becomes less pliable. The tendons and muscles in the hip can become overused or injured. A fracture of the hip due to a fall or injury will also lead to hip problems that need to be rehabilitated to get you back to pre-injury mobility and pain-free movement. All of these things can, and eventually will lead to hip pain
Let's take a look at some common conditions that cause hip pain

:

Arthritis.

The most common causes of hip pain in older adults are rheumatoid arthritis and osteoarthritis. Think of arthritis as inflammation that causes pain. This inflammation can cause the hip cartilage to breakdown and reduce the amount of protective cushioning in the joint. The result? Pain. And the pain can come and go, but it can get worse with time. Finally, because of the pain, most people reduce or stop physical activity, which leads to hip stiffness and decreased range of motion. This lack of exercise can lead to physical deconditioning and must be addressed to minimize long-lasting hip problems requiring more drastic and invasive treatments. Our team at AHP is very successful at helping our patients with arthritis regain range of motion, pain-free movement, and a return to normal daily activities through physical therapy and muscle reconditioning. Pain-free movement is possible with small changes and strengthening.

Bursitis.

There are sacks of liquid found between body tissues like tendons, muscles, and bones. These sacks are called "bursae." Their function is to reduce any friction from these tissues rubbing together. But if these sacks become inflamed, they can cause pain. That condition is called bursitis. Bursitis is a very common condition and one we treat with great success. We see this condition in our patients that engage in repetitive activities in chronic cases or intensely overworked situations with acute cases. Both types of bursitis can be addressed with natural, non-invasive therapeutic treatments and rehabilitation in our fully equipped, on-site physical therapy suite and gym.

Tendinitis.

The thick tissue bands that attach bones to muscles are called "tendons." Tendons can also experience inflammation, which is referred to as "tendinitis." This inflammation and irritation can occur anywhere in the body, including the hip area. It's usually caused by repetitive overuse of the hip joint but responds well with therapy and rehabilitation.

Muscle or tendon sprain or strain.

Repetitive motion and activities can quickly put strain on the supportive tissues of the hip like ligaments, muscles, and tendons. These tissues actively support the hip but can cause pain and prevent the hip from working normally when injured due to strains or sprains. When there is muscle imbalance, meaning weakness in some areas and tightness in other areas around the hip – that can lead to muscle imbalance and abnormal wear and tear. This can cause increased strain on any of the dozens of structures within the hip.

Hip labral tear.

We've already told you how the labrum cartilage cushions the hip joint and socket. This cartilage can suffer a rip or tear, usually due to repetitive twisting motion or injury. This tear can impact the labrum's ability to adequately hold the ball of your hip joint in the hip socket. We see these types of injuries in traumatic injury cases (such as a fall), and with athletes.

Osteonecrosis or avascular necrosis.

Most often caused by a hip dislocation or fracture, this condition is when bone and tissue in the hip dies from lack of blood flow. Overuse of high-dose steroids can also cause this condition. Our team at AHP works with a network of specialists in the Norwalk, Connecticut, and Fairfield County area. We actively refer our patients to these specialists if we suspect a condition such as this being a factor in our patients' hip pain.

Hip fractures.

Whether due to age causing bones to become weak and brittle, or a fracture due to a fall or other accident or injury, all cases will need rehabilitation and re-strengthening in order for you to return to normal activities. Our team of dedicated musculoskeletal specialists is on hand to work with all pre/post-surgical hip replacement, rehabilitation, and can get you back to your active and rewarding lives.

Cancers.

Cancerous tumors that start in the hip bone or that spread to the hip bone and can cause pain. Again, our treatment team at AHP has an excellent relationship with Norwalk area cancer-specialists to ensure our patients receive the best healthcare possible. Our expertise is to provide the physical therapy and rehabilitation our patients require during and after their cancer treatments to maximize quality of life and pain-free movement.
The appearance of hip pain is not always in the hip!
Depending on your individual circumstances and the conditions that are causing your hip pain, you might feel the discomfort in your:
Groin
Thigh
Buttocks/Glutes
Inside or outside of the hip joint
Low back
Our team at Advanced Health Professionals is well-versed in hip joint problems, injuries, and conditions. Since 1990, we have provided care for hundreds of patients suffering from pain and problems with their hips. We can help you too! Take the first step in calling us to set up a free phone consultation. Our treatment team will set you up with one of our knowledgeable treatment team members to answer your questions and walk you through some options to get you out of pain and back to your life fast!
---
Want to learn more? Call us to schedule a free educational visit or telephone consultation with Melissa or Serena to discuss your specific concerns to determine the best choice for you. Give us a call or text at 203-847-4477.